We want to hear your #WhyCompassGroup story!
Whether you're a chef, manager, foodservice worker or technician, we know that each of you has a unique story to tell about why you choose to work for Compass Group and what makes this company special to you. Now is your time to tell it. You can record a video or simply write a post on social media with a photo or two – then use the hashtag #WhyCompassGroup and tag @CompassGroupUSA.
SCOTT DAVIS
Why Compass Group for CEO of Flik Hospitality Group Scott Davis? It's simple: our values and vision align perfectly with his own. We value diversity and inclusion and we're committed to creating opportunities for our people to develop, succeed and grow with us.
AIDE ARMAS
"I learned in school that doctors and nurses aren't the only ones who impact a patient. I wanted to be that comforting presence for others," said Aide Armas, Director of Operations for Crothall Healthcare. She continues, "That led me to my work with Crothall." In her Why Compass Group story, Aide shares the personal and intimate calling she felt to dedicate her life to serving others.
SCOTT MACLELLAN
What makes us a great company is that we love what we do, and we love the people we do it with." For CEO of TouchPoint Support Services Scott MacLellan, it's that simple. Check out Scott's Why Compass Group story to see how he empowers his team to serve with purpose.
DARLENE ANDERSON
Why Compass Group for Eurest's Darlene Anderson? Compass Group is a place where she can live out her passion for people and food every single day. It's a passion that began long before her 37-year career at Compass Group, and one that extends beyond her work. She feels most at home when she's serving others.
TONY MCDONALD
Tony McDonald, CEO of Eurest and ESFM believes that a career at Compass Group is bigger than serving food or providing support services, it's an opportunity to be a "game-changer and a difference maker" every day for our customers and the communities in which we serve.
AMY KNEPP
Amy Knepp, Executive Vice President of Compass' Strategic Alliance Group,  is always focused on exceeding expectations. That's her job; to anticipate the needs of our clients and over-deliver on their expectations.
So naturally, when given the opportunity to tell her #WhyCompassGroup story, she made sure to demonstrate just why Compass Group is a partner of choice.
JUGVEER RANDHAWA
Why Compass Group for Compass Digital's Chief Digital and Technology Officer Jugveer Randhawa? Because Compass Group is a food, hospitality, and services company that builds tech, and you just can't find that anywhere else. Check out his story for a glimpse at the leading role technology plays in food and hospitality.
SIM WILLIAMS
Sim Williams has done it all – he's an Air Force veteran, a former DJ, and now, Regional Director of Operations for SSC Support Services for Education. Why Compass Group for Sim? Because Compass has given him opportunities that he wouldn't have had otherwise. It's like Sim says, "Whatever you put in, they'll give you more. The sky is the limit."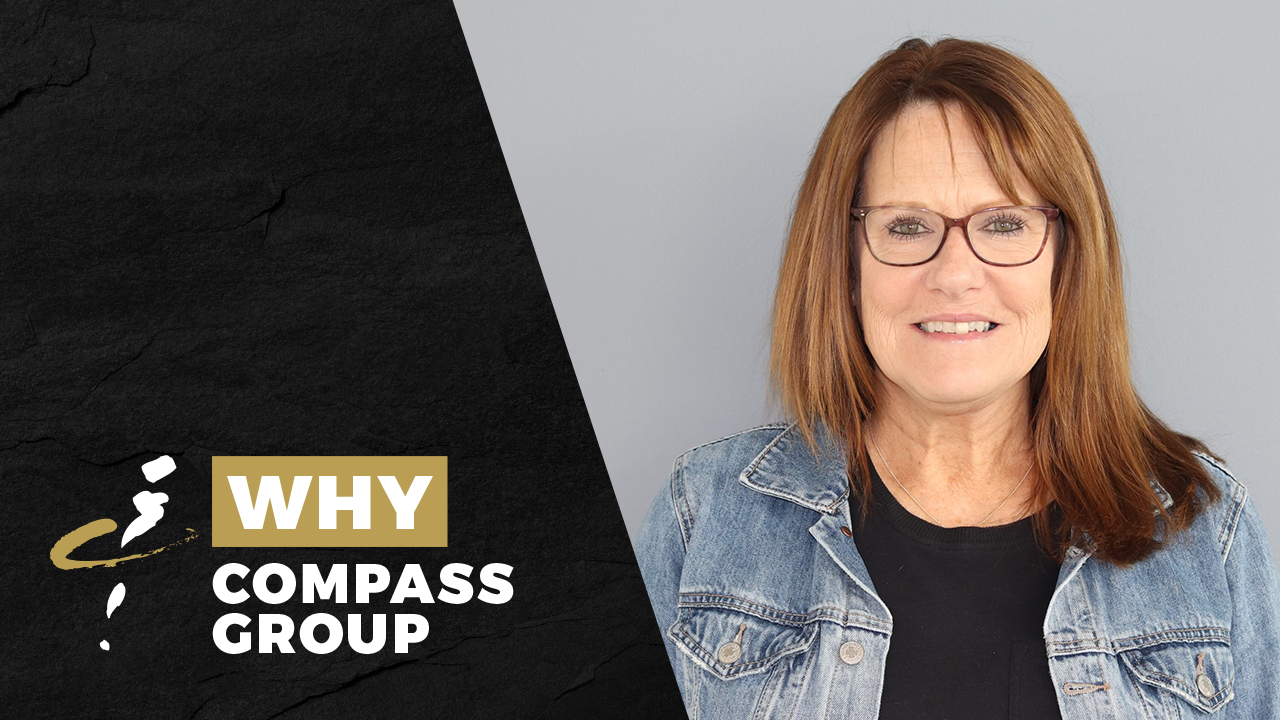 LYNNE VERSCHUEREN
"I love my job," said Lynne Verschueren, Regional Vice President for Canteen, the nation's largest unattended retail provider. But why Compass Group? She continues, "We're always on the cutting edge. We're not sitting back and just putting soda in vending machines. If you like new things, then this is a place to learn and grow."
DENNIS HOGAN
As the CEO of Foodbuy and Compass Education, Dennis Hogan sees it all – from the earliest stages of the supply chain, the expertise required to create clean, safe, and customized learning environments, to the delicious meals enjoyed in school cafés and university dining halls across the country. Dennis' Why Compass Group story is all-encompassing.
PETER FETHERSTON
Peter Fetherston, our CEO of Business and Industry has called Compass Group home for nearly three decades, so when asked "Why Compass Group?," he had quite a few years' worth of reasons to sort through. But his answer came easy. "The culture is why I've been with Compass for so long. It's our people, it's our innovation, it's our culture, it's our sense of purpose. That's who Compass is."
TIM PIERCE
Why Compass Group for Morrison Healthcare CEO Tim Pierce? Because the work we do at Compass Group is bigger than serving food, it's about the opportunity we have every day to serve others. Whether it's a patient in a hospital or a student in a school, our mission is to serve. 
ADRIAN MEREDITH
Meet Adrian Meredith, Compass Group's Chief Financial Officer. A recurring theme in our #WhyCompassGroup stories, Adrian shares that our people are the key to our success, and our unique sectorized model is what sets us apart from the rest.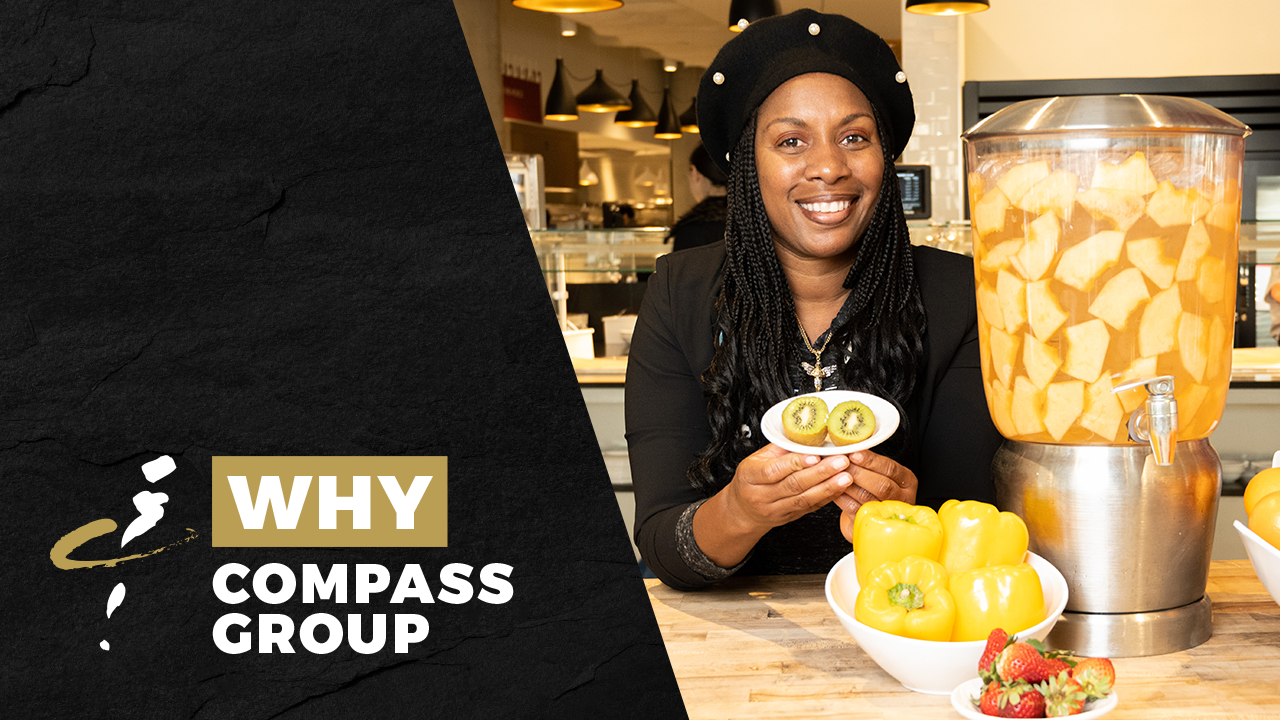 SHEREE LEDWELL
Why Compass Group for Registered Dietitian Sheree Ledwell? Because at Chartwells Higher Education, she has the flexibility and support to cultivate her career while nurturing her burgeoning family. "A lot of companies try to deliver this kind of work-life balance, but they don't succeed. Here at Chartwells, we do it right."
JENNIFER MCCONNELL
There are no ifs, ands or buts about it for EVP and General Counsel Jen McConnell, whose #WhyCompassGroup story centers on what Compass a partner of choice – it's our people who set us apart: "Our success is attributable to our associates, bottom line."
SAAJID KHAN
Meet Saajid Khan, CEO of Compass Group Canada & ESS North America. His #WhyCompassGroup story starts with culture and ends with corporate responsibility. For Saajid, it's not just that we do things well; it's that we do them right.
DENNIS RIVERA
For Morrison Living Executive Chef Dennis Rivera, his answer to "Why Compass Group?" comes down to the opportunities he has earned and the growth potential in front of him. His ultimate goal is to become a regional executive chef. On that journey, he'd also like to spend some time working in the Middle East. At Compass, both of those goals are attainable, making a bright future for Dennis at Compass Group.
LISA MCEUEN
Why Compass Group for Chartwells Higher Ed CEO Lisa McEuen? Because Compass Group is a company that treats associates, partners and clients with care and concern, "We really believe that we're part of the fabric of the community of each University where we do business."
ANDY LANSING
CEO of Levy Restaurants Andy Lansing is bringing all the energy in his #WhyCompassGroup story! Leave it to the leader of the "coolest team in food and sports" to demonstrate Compass' passion for innovation and drive to disrupt the foodservice and hospitality industry.
BOBBY KUTTEH
We asked Bobby Kutteh, CEO Compass One Healthcare and CCL Hospitality Group, a simple question – Why Compass Group? And his answer, which is all about the purpose-driven work you'll find at Compass Group, perfectly summarizes him as a leader; someone who will encourage you to tap into your caring spirit to serve others. 
CINDY NOBLE
No surprise here, for our Chief People Officer Cindy Noble, #WhyCompassGroup is all about the people, "We're a big company that has a great heart for people. That's what makes us who we are today, that's what makes us Compass."
WARREN THOMPSON
President and Chairman of Thompson Hospitality Warren Thompson first answered the question #WhyCompassGroup back in 1997 when he was in search of a strategic partner. His answer to the question then mirrors his answer now; Compass was and still is creative, innovative, and looking to grow. But perhaps most importantly, he saw then that Compass was a company that valued diversity.
22 years later, the partnership is stronger than ever.
Join the Compass Group Family
Whether you're a client or a colleague,
we have a place for you.
Let's Get Started